From staycation deals to jaw-dropping mall offers and promotions, Family and Lifestyle blogger Behnoush Yaghobi (@babynilia) has it covered as she takes in Sharjah's new Four Points by Sheraton hotel, the must-see experiences at the Sahara Centre and so much more.
Sunday and start of a new week. I hope you all had a lovely weekend. We have been living in UAE for 7 and something years but never been to Sharjah and have always only driven through the city. I guess it was about time, right?
As the temperature is at its highest in the country, we are all in search of indoor activities and that is what we tried to find in Sharjah. Sharjah tourism have some great summer promotions going on and you can find them all here:
https://shjsummer.ae/en/promotions
Sahara centre was our first stop. The place looked pretty traditional when entering the ground level from the parking and it gave me a very authentic feeling. But as soon as we took the escalator up the feeling quickly turned into entering a very modern mall. With many international shops and restaurants you'll find everything you need when spending a day at a mall. But I must say that the surprise of the mall was the Adventure land. It's an indoor jungle theme park with many rides including a roller coaster! Well if you think we could only walk by without Nilia begging to try some of the rides then you better think twice.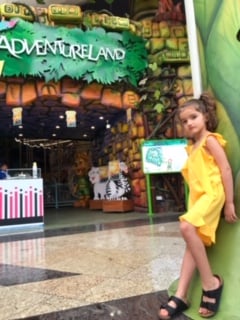 Yes, Nilia and daddy tried the roller coaster and this was the first time ever for her. She absolutely loved it. We tried some of the games and while walking through, the amazing jungle-themed birthday party area drew my attention. It looked amazing and if I lived in Sharjah I would definitely have my kids birthday party there. In the mall you will also find the newly renovated Novo Cinema which looks superb.
What caught our eyes the second we stepped into the mall was the BMW 8 series parked in the middle of the mall. The promotion is spend AED200 at the mall and you have the chance to win a BMW 8 series or home furniture vouchers worth AED150.000. Not bad huh?
Our accommodation for the night was Four Points By Sheraton. We were welcomed very warmly as soon as we entered this high building. The check in process was very quick and the personnel were very professional. We stayed in a business suite on the 26th floor with a gorgeous view. The hotel is ideally located in the heart of the city within 10 minutes driving distance of the malls that we visited. The hotel facilities include two swimming pools and a gym located on the 7th floor.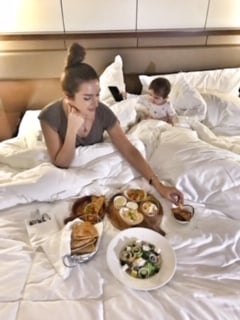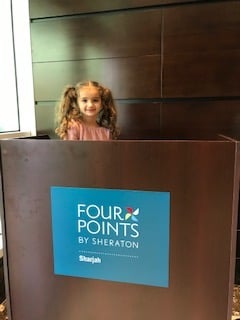 The building is brand new and the place is spotless. It's affordable and has many promotions going on during the summer, such as ladies' nights, dining promotions with access to the hotel facilities, their Breakfast Club and many more. Breakfast, lunch and dinner is served at the international restaurant Yasmina but there is also a Chinese restaurant located in the hotel.
While driving through the city the next day we noticed that Oasis mall has opened in Sharjah. The mall is home to many of the shops owned by the Landmark group and we found Centrepoint, Home Centre, Fun Blocks (Nilia's favorite), Max, as well as Carrefour, Vincci, and Okaidi while visiting. The spa, nail salon, cinema and a huge food court are also about to open in the mall.
So if you are planning to visit Sharjah make sure to take advantage of their summer promotions going on right now.
*This blogpost is sponsored by Sharjah Tourism.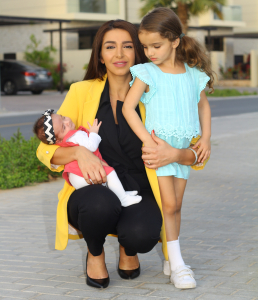 Behi
My name is Behnoush, 35 year old Iranian/Swedish married to Sia. We have a 5 year old daughter named Nilia and a little baby girl named Liani. Both are born in Dubai. I'm a full time working mama within finance but love to blog as a hobby. Follow us as I share our stories as expats in Dubai.
Check out my account