Whether you are travelling abroad or looking for somewhere close to home, finding a place that is great fun for families with young children can be challenging! Just a short drive from Dubai, is Al Montazah Parks in Sharjah, offering incredible entertainment for the entire family.
A first of its kind in the Emirates, Al Montazah combines the Pearls Kingdom Water Park & Island of Legends Amusement Park. Thrill seekers can test their skills on the high ropes course, toddlers can cool off in the lagoon playgrounds and Dad can make a splash on the water slides. There really is so much to do for everyone in the family.
With it still being hot in Dubai, we couldn't wait to check out Pearls Kingdom Water Park, especially with all the pools and slides for toddlers.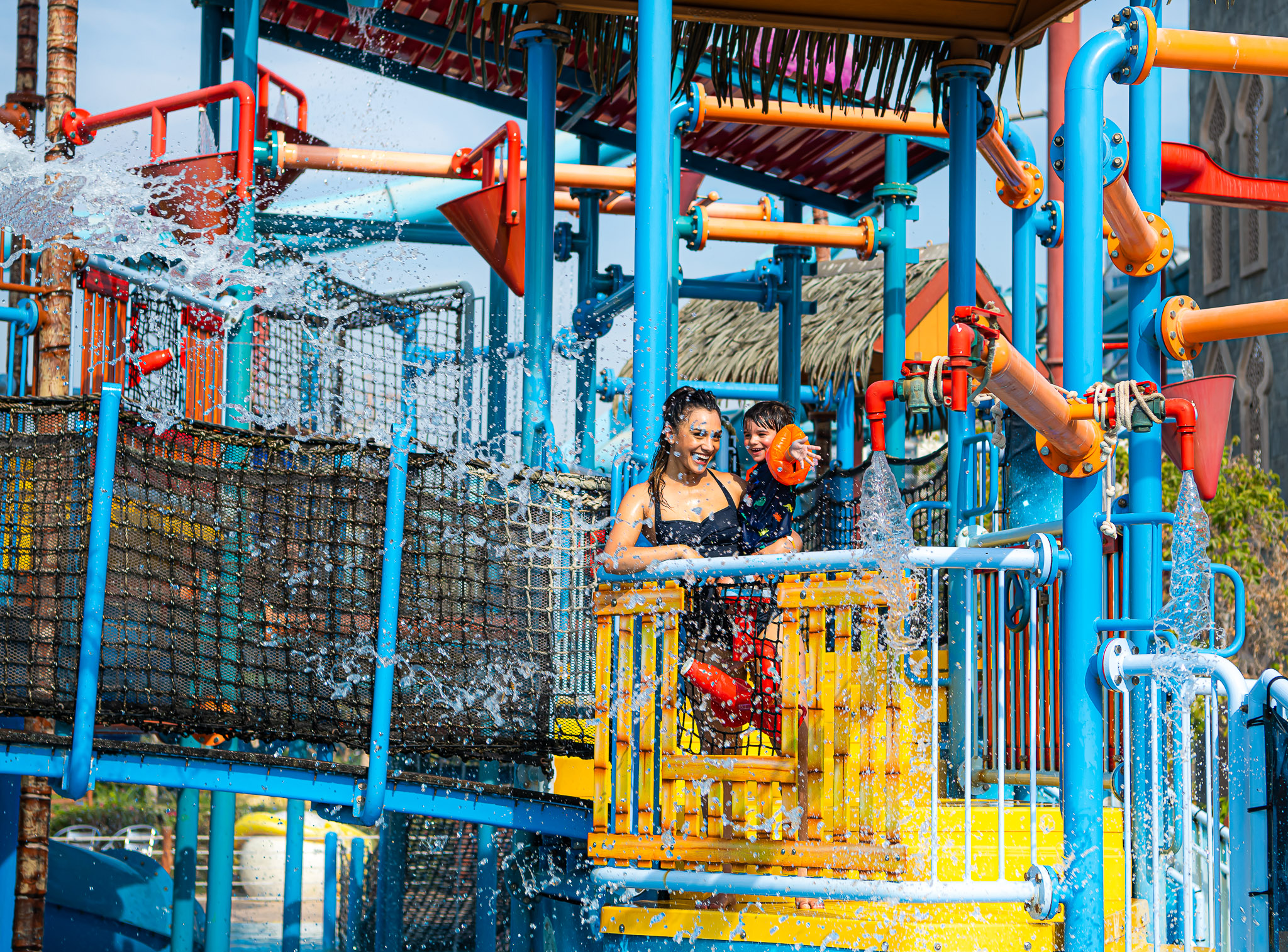 Getting There
Al Montazah Parks is only 20 minutes drive from Dubai Airport and it took us just over 30 minutes from Arabian Ranches on the other side of Dubai. There is free parking at the park.
Pearls Kingdom: 150aed for adults, 110aed for children
Open 10am to 9pm (Tuesday is a ladies only day)
Island of Legends: 120aed
Open 1pm to 10pm daily
Combined Pass: 200aed for adults, 150aed for children
Children under 80cm are free!
Pearls Kingdom Water Park
The Water Park is designed around the story of the "Pearl of knowledge" and the adventurous search for this magical gem which would bring protection and wisdom to Pearl Kingdom. From the moment you walk through the giant gates, you are entering the world of magic carpet rides, giant octopuses and pirate ships.
Whilst some water parks seem to target teenagers and young adults, Al Montazah is perfectly suited to families with young children. There is a huge variety of activities for kids of all ages, from the smallest splash pools to the more adventurous water slides. In total, there are 36 different water slides – some were perfect for our 2 year old and others, Dad had to test out by himself.
Whether you want to calmly float around the river on a rubber ring or explore the lagoon playground, you will find it impossible to get bored.
Noah's favourite was the Kid's Galaxy – a lagoon with small water slides, fountains and rope ladders. It is like a playground in the water where kids can safely get confidence with moving water and small slides. Kid's Galaxy is perfect for toddlers (up to 140cm).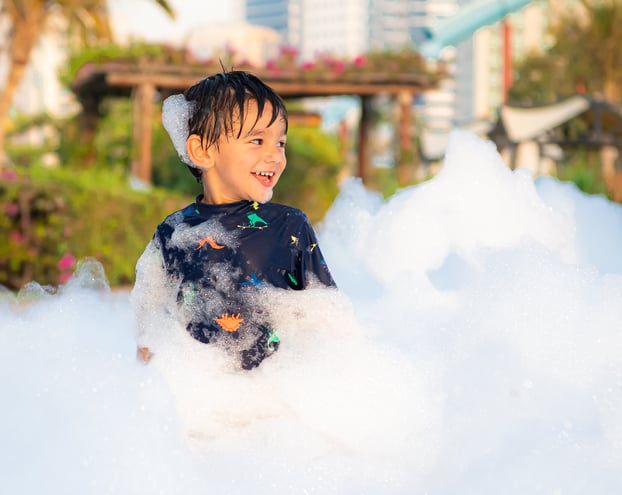 He also enjoyed the Kid's Sea – which I think had a lot to do with it having a dinosaur water slide. The Kid's Sea is a little calmer and quieter with some gentler slides for smaller ones.
Noah also spent a lot of time in The Great Oasis – a clean, calm lagoon open to all ages. Whilst he did enjoy the slides, he also loved making his own splashes in the pool. Parents and slightly older children (over 80cm) can float along the Mystery River which runs through Pearl's Kingdom. It starts and finishes in the Great Oasis.
For the adults... I spent quite a bit of time flying down the water slides of The Fort. There are 4 slides, depending on your height and adventure level – I went on all of them and they're all great! For the more daring, The King's Palace water slides are steeper and faster! These are a must!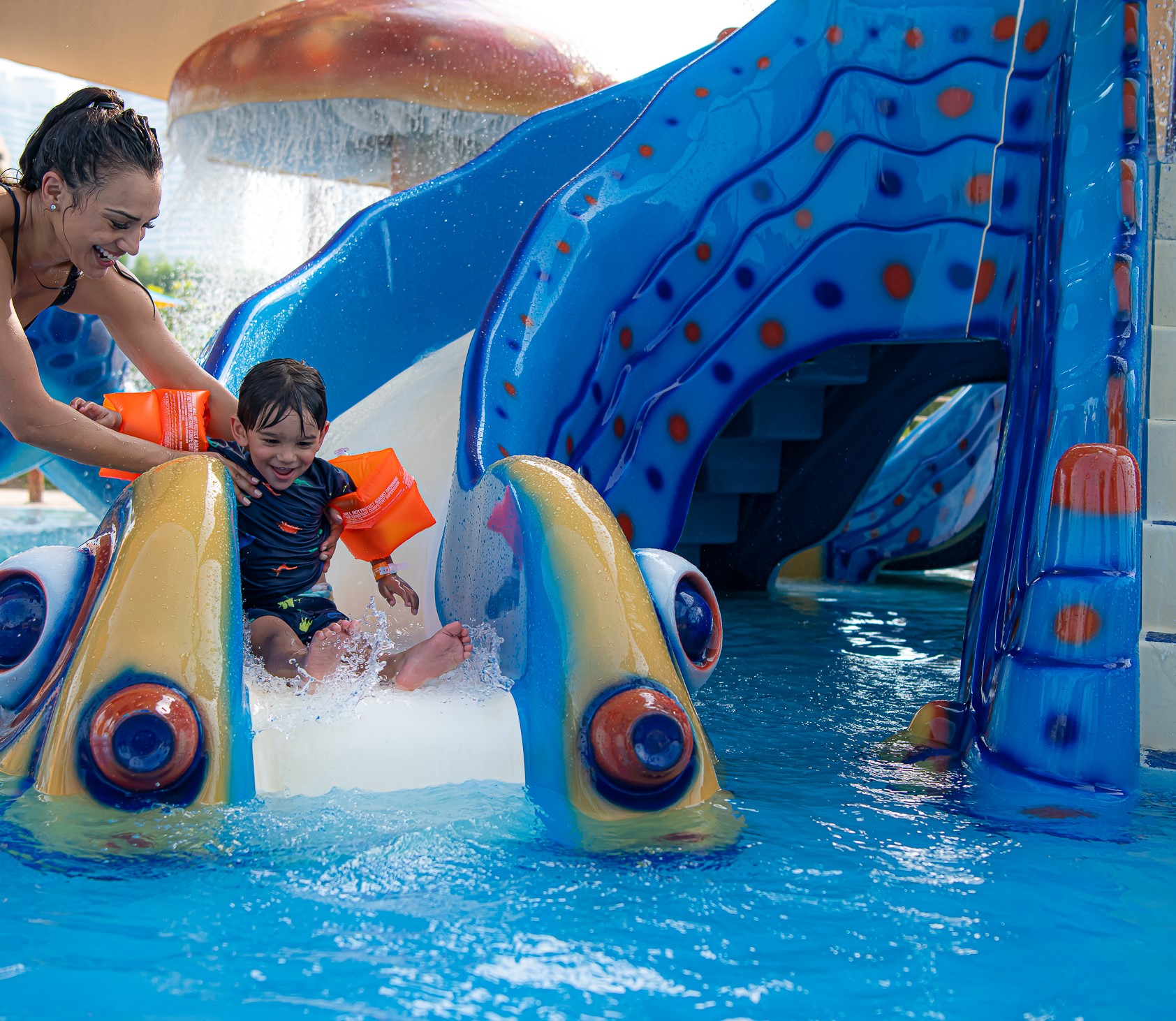 Facilities
Inside the Pearls Kingdom Water Park, you can rent cabanas that are fully equipped with lockers, towels, a refrigerator, microwave and air-conditioning. If you are planning to spend the day at the park these are a fantastic idea as you can keep all your things safely in one place and the little ones can even have a midday nap in air-conditioned comfort. There are also individual lockers you can hire for the day and the park has free wifi to upload all your fun straight to social media!
All the activities are supervised by trained life guards and buoyancy vests are available in sizes from adult to toddler. There are several food carts inside the park as well as a restaurant to keep your family fuelled for the day.
Island of Legends Amusement Park
Next door to Pearl's Kingdom is the Island of Legends – an amusement park with 26 rides ranging from the Eye of the Emirates ferris wheel with a view of the Sharjah skyline, through to the Sherlock Holmes themed Teacups carousel for little ones. Island of Legends is perfect for when the sun starts to dip and the lights of the rides take over. The park is designed around taking guests on a journey through 9 different countries in the form of fairy-tales and stories. When you enter the park, the first stop should be The Time Train – a fun way to explore the park and decide which ride you will go on next! For the thrill seekers (children over 120cm), you can test your skill, balance and nerves in the Extreme Adventures courses. For the smaller explorers check out the Fun Castle which is designed more towards the younger children under adult supervision.
Suggestion
During the warmer months, I would recommend visiting Pearls Kingdom for a full afternoon into the early evening (the park closes at 9pm). As the temperatures cool, I would make a full day of it and visit the water park first and then spend the evening at the Island of Legends Amusement Park.
It is definitely a place to visit as a family or a group and really not too far from Dubai. Whether you are living in Dubai or here on holiday and looking for a fun way for the family to cool off, I would definitely keep Al Montazah Parks near the top of your list of places to visit!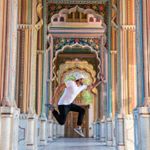 Andy Marty
Travel & lifestyle photography based in Dubai.
Check out my account