As you drive east out of the city of Sharjah, the dense cover of low-rise industrial warehouses falls away to be replaced by vast swathes of red sand.
Due to the way the country was mapped out in 1971, Sharjah is split between a large city on the west coast, and smaller enclaves on the east, with soaring mountains and desert between them. It is the only emirate with sandy coastlines on both the Arabian Gulf and the Gulf of Oman seas.
While recent decades have seen almost unprecedented development across the UAE, Sharjah stands alone somewhat. Its east-coast village of Kalba and the port town of Khor Fakkan were once home to tribes of fishermen and seaman. Many of the last generations of these can still be found sharing a pot of tea in small harbor cafés, usually with a game of dominoes on the go.
In contrast to the glitz and glamour of the country's biggest cities, rural Sharjah is full of tidal creeks, sandy beaches and mangroves, all with a different feel to those on the west coast.
The east has a traditionally family feel, with many Emiratis escaping the cities on weekends and public holidays to unwind. The 3km beach and corniche at Khor Fakkan is a particularly popular picnicking spot and has beautiful, clean stretches of sand with waterspouts and activities aplenty.
Much has been done to preserve the emirate's heritage and, at the same time, create sustainable eco-tourism projects highlighting its natural beauty and history.
Sharjah is, arguably, home to some of the UAE's most stunning deserts, lush wadis and jagged mountains, many of which are now easily accessible to tourists. Welcoming locals are incredibly proud of their heritage and, as such, are more than happy to talk to visitors about their country's history.
One of the area's most impressive nature projects is the Al Hefalyah Mountain Conservation Centre, just 90 minutes' drive from Sharjah City. It covers 12 sq km and houses more than 30 species of animals whose natural habitats are surrounding Wadi Al Helo, Kalba and Khor Fakkan.
The Centre educates visitors about the area's natural heritage but also plays a significant conservation role, protecting the country's most endangered species - such as Arabian leopard and the Arabian wolf - which would likely otherwise die out.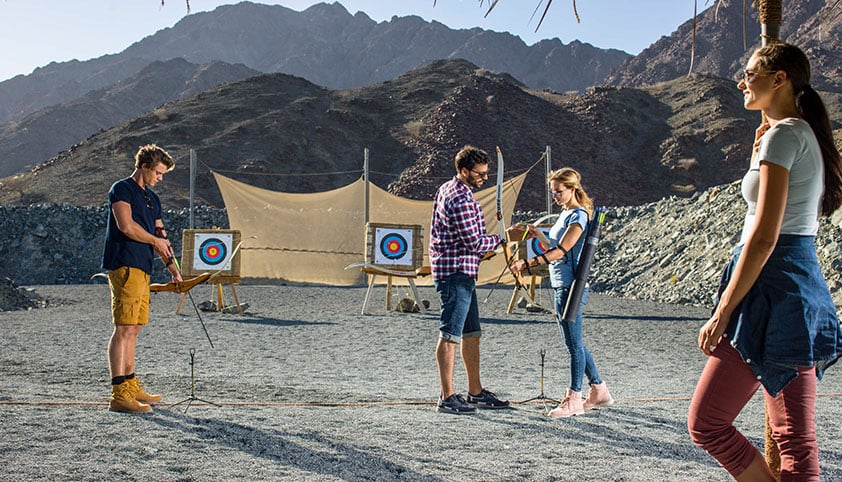 Regarded as a jewel in Sharjah's crown is the nearby Kalba eco-tourism site, a prime spot for birdwatching, kayaking, archery and host of other activities.
Some of the mangroves are an incredible 300 years old and provide the only known nesting sites in the country for the rare white-collared kingfisher bird. Recently, sea turtles have also returned to the site's beaches to lay of their eggs after a 40-year absence. This is a direct result of the emirate's efforts to protect the area.
While most of the UAE's history is focused on pearl diving and the discovery of oil, Sharjah takes a different approach.
Its Mleiha Archaelogical Centre examines more than 100,000 years of remains from the Neolithic, Iron and Bronze Ages. In just 40 minutes, tourists from Sharjah City can explore these incredible finds on family-friendly guided tours. The project is a great example of how Sharjah blends preservation with development. Guests can go dune bashing in 4x4s, take safari tours, or explore mountain-bike trails and hikes. Adventurous visitors can paraglide or paramotor down the highest Mleiha peaks.