Want to know how to capture that Mocha moment? Searching for that perfect sugary snap? Then look no further than Lifestyle blogger and cafe aficionado Abeer Acero (@lookingforabura) who hits the streets of Sharjah to showcase her top five instagrammable coffee shops in Sharjah for that hashtag worthy (espresso) shot.
In a world where "you need to Instagram or it didn't happen", our feed is bombarded with endless string of trendy, cute and hip cafes all around the UAE. I'm pretty sure you're well aware of Dubai's fair share of 'grammable' coffee shops but here's the thing, Sharjah is not backing away.
If you're like me and you can't last a day without your shot of espresso or cup of latte, then you're in for a treat. From the best specialty coffee, to laid back spots, to cute floral ceilings and libraries - they have it all. I found the most 'grammable cafes in Sharjah that will make your feed insta-worthy.
Just a friendly reminder from a shutterbug perspective, be mindful when you take photos of people inside the coffee shop (ask permission if possible). And look, some of you have asked me over and over again about what camera I use. Whenever I go out, I bring either Fujifilm XT0 and SONY RX100VI along with me because they are both handy but if you don't have a camera, your phone will do wonders. Especially because the cafes have their own good lighting spot! Just be sure that you go during the day.
So here we go! I'd like to share my TOP 5 Trendiest Coffee Shops in Sharjah for you to visit:
1. DROWSY CAFÉ
This little space at the corner will easily catch your eye (no pun intended).
WHAT MAKES IT SPECIAL?
You go there, a smiling group of baristas/staff welcome you all at once. And you just know that you feel relaxed. As you choose your coffee, the staff would explain how the coffee is made - which is a big plus for coffee connoisseurs. The coffee is so good you want another cup ASAP. Their piccolo is spot on and their cream is first rate.
INSTAGRAM IT!
The quirky logo is inviting and when you enter, it's surrounded by comfy cushions and chairs with warm-lit lights that will make you feel…well, drowsy? But that's its charm, I guess. It's a perfect set up for a cozy instagrammable shot. You can make use of their unique coffee cups, too. They do stand out whenever I post it. And don't forget to bring a book and make Drowsy café your reading spot!
I have been to this coffee shop for a couple of times now and the quality of coffee and good service remain the same.
What to order: Piccolo, Spanish Latte, Iced Mocha

2. GNAD CAFÉ
There are several reasons why this place is packed almost all the time despite having a huge space. But one thing is for sure : they make coffee a serious business.
WHAT MAKES IT SPECIAL?
The place is open 24/7 - they see and hear everything! It's a local favorite so they have loyal customers that always come any time of the day. They also have the best iced Spanish latte that you can take-away using a cool reusable bottle. And don't forget, they have nitrogen coffee that will keep you wide awake for sure! They also have a good selection of desserts that you might want to try if you're more of a sweet tooth.
INSTAGRAM IT!
As you go inside, a warm nostalgic feeling welcomes you. The brown leather, wooden chairs and tables, fresh luscious greens are well-put together which created a harmonious space to drink a cup of good coffee. I love taking photos here because of how well-lit the place it with the natural light of the sun. They have a huge space for you to go around and take "the shot". Also, so don't forget to ask the baristas for that perfect #latteart that you can post! They make almost anything.
What to order: Iced / Hot Spanish Latte and Nitrogen Coffee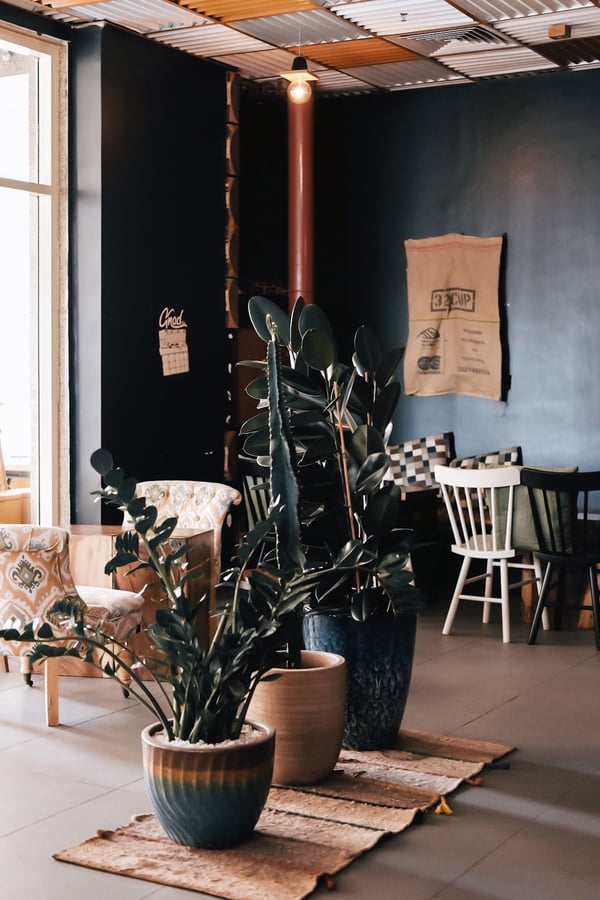 3. i-BAKERY
There's always something new in this neighborhood. i-Bakery opened its doors just a few months back but it's already making a wave.
WHAT MAKES IT SPECIAL?
We talked about good coffee, but we haven't talked about good desserts. i-Bakery has an array of choices! They have bites and cakes and cookies all plated beautifully in their shelves. Not only do they have baristas, but also pastry chefs. I love that they got to come up with special sweets to pair with their coffee.
INSTAGRAM IT!
The cool interior must have added to its value. A concrete, unfinished-style wall accentuates the pastel-colored chairs and paintings and even their crockery. It's the perfect set-up if you're going to minimal slash pastel slash chic photos.
What to order: Hot Chocolate and Iced Vanilla Salted Caramel (pair it with Lotus cheesecake)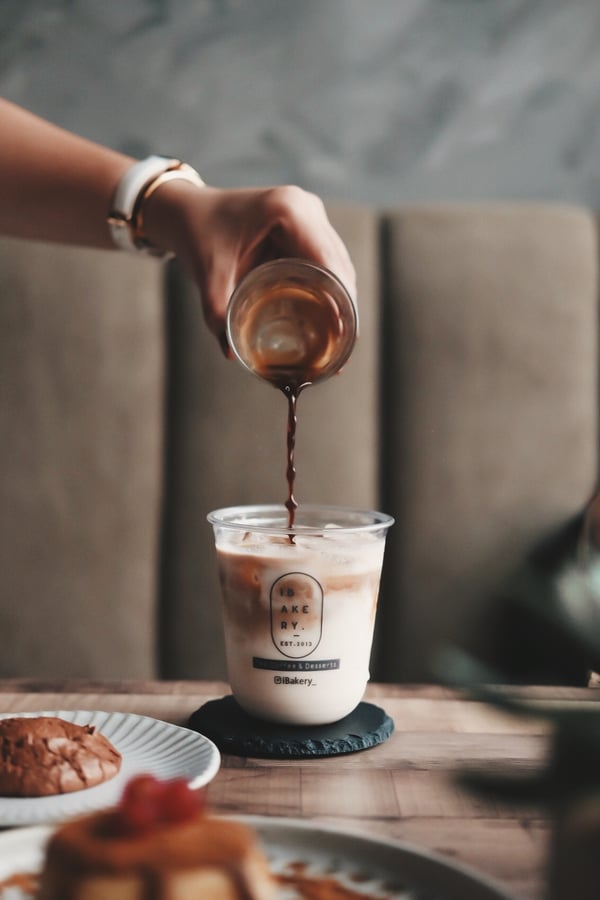 4. STORIE CAFÉ
It's a classic story of a boy meets girl in a coffee shop, boy likes to drink coffee, girl like to read. Boy falls in love with the girl who reads. And boom! STORIE CAFE was born. A place where coffee and books are "the thing".
This story happened in my head but I'd like to think that it happened that way. I am just into this place since they have the two best things in life : coffee + books. Need I say more?
WHAT MAKES IT SPECIAL?
Okay let me say more… You will be in two places at once. Since it's not just a coffee shop, they don't just make amazing coffee, they also serve good food. They are open for breakfast, lunch and dinner. PLUS: THEY DON'T USE PLASTIC STRAWS ANYMORE. Hooray!
INSTAGRAM IT!
The place is laid back with a touch of sleek and modern vibes with its murals. The library is full of English and Arabic books that you will recognize. Thus, it's my ultimate café. You won't be needing much props here as they have everything. Get a good cup of coffee and grab a book = #bookstagram.
I guess it's safe to say that it will not only feed your mouth but also your mind.
What to order: Cafe Mocha for Coffee and BAO for Food
5. NOTA SPECIALTY COFFEE
Another new shop that opened this year, Nota Specialty Coffee is a place to simply hang out and chill.
WHAT MAKES IT SPECIAL?
The cold brew says it all. It's so rare for me to get a cold brew but when I went there when it was 35 degrees outside, I couldn't help but get a shot. And I'm glad I did. Packed in a reusable bottle with its light, fruity taste, the signature Nota Cafe cold brew is stealing the limelight. They also have some board games that you can play with. However, they don't much selection for dessert, so it's really all about the coffee.
INSTAGRAM IT!
I love the spacious ambiance of it. The bright, cozy interiors can do no wrong. Also, each corner has its own mood – from brown tones to concrete and concrete to lush green with plants. I assure you, every corner is grammable! So simply find a spot to take your shot.
What to order: if you're not into coffee, they serve tea as well.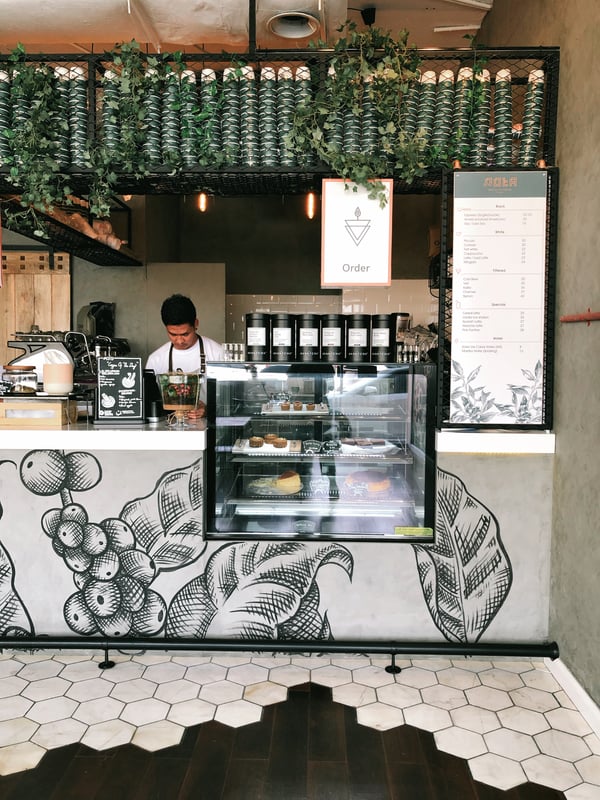 I hope I gave you something to look forward to the next time you visit Sharjah.
For me, Sharjah is my escape; my safe haven. I go there to stay away from my busy life and enjoy a good afternoon with a cup of coffee, in a little cafe where all my responsibilities are out of reach! Ha. I know it's crazy, but it's worth a shot.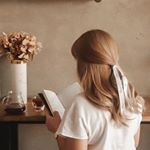 lookingforabura
Check out my account