I'm in one of the hottest countries on earth and it's raining. Pouring really, relentlessly. But I'm not getting wet. A dream? A vision? Neither. I'm in the Rain Room, an ingenious art installation where visitors stay dry while walking through a downpour thanks to sensors able to detect a moving human body. After hugely successful stints in London, New York, LA and Shanghai, the piece has now taken up permanent residency in Sharjah.
Just north of Dubai, Sharjah is one of the smaller of the seven emirates that make up the United Arab Emirates. I'd first heard about it on a previous visit to Dubai and, as an art aficionado, had been instantly intrigued when a friend told me about its active art and cultural scene. She reeled off the cornerstones of Sharjah's cultural pedigree: Host of the Sharjah Biennial, the Sharjah International Book Fair and the Sharjah Architecture Triennial. Home to 18 museums, including the prestigious Sharjah Art Museum. A historic city centre under reconstruction. Unesco Cultural Capital of the Arab Word in 1998. Capital of Islamic Culture in 2014. Ok, ok! I was convinced. So when I recently returned to Dubai on the occasion of a friend's birthday, I decided to go see for myself what Sharjah had in store for a culture vulture like myself.

I set out early on a hot September morning. Driving north, Sharjah first appeared as a seamless extension of Dubai's urban sprawl, until I steered past Al Majaz Waterfront and the Central Souq towards the Creek. My destination: the Heart of Sharjah, the historical core that's also packed with art venues. The long-term restoration of this cluster of traditional Emirati buildings is tangible proof that preserving its cultural heritage is enwrapped in Sharjah's vision for the future.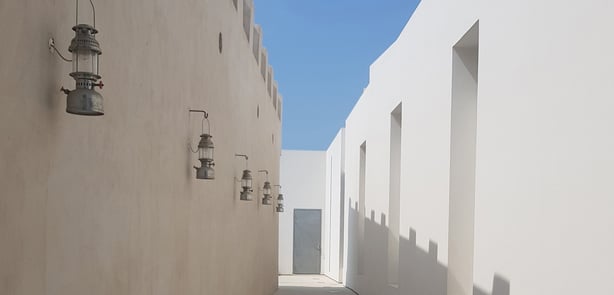 Sharjah Art Foundation: champion of contemporary art
I parked the car and headed to my first stop: the Al Mureijah Art Spaces, five white-cube galleries run by the Sharjah Art Foundation (SAF). Founded in 2009, SAF is the driving force of contemporary art in the emirate and beyond. Its director, Sheikha Hoor Al Qasimi – the youngest daughter of Sharjah's art-appreciating ruler, who is himself a poet and playwright – also masterminds the Sharjah Biennial which her father created in 1993. It is now a key stop on the global art exhibition circuit and regularly attracts top curators and artists from the region and worldwide. A huge team of dedicated staff also organises a year-round line-up of exhibitions, performances, artist talks, film screenings and other community events.

With their stark white facades and boxy shapes, the galleries on Al Mureijah Square have a decidedly contemporary look. It takes a keen eye to notice that they're actually built atop the foundations of 19th-century Emirati family homes. Strolling through the maze of narrow walkways linking the structures, I noticed bits and pieces of the original coral-and-gypsum walls. In between, courtyards – one of them anchored by a bushy ghaf tree – provided open spaces. I also stumbled across the Urban Garden, often used for community events, where a couple of SAF's resident cats were taking a nap.

With temperatures starting to soar, it was time for a little break. Tucked among the galleries, I had spotted a suitably modern-minimalist café called Fen ('art' in Arabic). I sought refuge in the nicely cool L-shaped space where sleek Scandinavian furniture met traditional coral walls, beamed ceilings and wooden shutters. The menu featured a parade of interesting-sounding fusion dishes, but all I could handle was a cold homemade lemonade and an Ube Leche Flan. As tasty as it was artsy, the latter turned out to be a purple-yam cake topped with crème caramel and a free-form caramelized sugar wafer.
Souq Al Arsah: bargains in a traditional bazaar
En route to my next art stop, I could not resist popping into the 150-year-old Souq Al Arsah, one of the oldest trading places in the UAE. It once teemed with traders from around the Gulf and local Bedouin, their camels fastened to hitching posts outside. I bought a cup of karak chai from the souq's cafe and surveyed the scene. Sipping this sweet, cardamom-infused milky tea, I scanned the little shops overflowing with handicrafts, wooden chests, coffee pots, jewellery, pashmina shawls and other bits and bobs. In the central courtyard, I watched vendors and locals in white floor-length kandoura (robes) exchanging gossip or taking naps.
Overlooking the courtyard, the Honeymoon Studio caught my eye. Every inch of wall or shelf space of this charmingly old-fashioned photography studio was plastered in framed pictures taken by the owner since the 1960s. He was especially proud of the portraits of royal family members, but I actually found images of Sharjah in pre-oil times a lot more intriguing.
In another quiet corner, I came across the Al Omani Sweets Factory, a grand name for a tiny operation. The sweet in question is Omani halwa, the national dessert of Oman and popular across the Gulf. I watched in fascination as workers used a huge paddle to stir a bubbling blend of water, sugar, ghee, starch, rosewater, nuts and cardamom around a heated copper cauldron. I picked up a small tub of this gooey sweet and moved on.

Calligraphy: words of beauty
From the souq, the Sharjah Calligraphy Museum was a mere date toss away which, given the intensifying heat, I was rather grateful for. In darkened galleries orbiting an arch-framed atrium, works on canvas, paper, ceramics and wood illustrate the evolution of this timeless art form that elevates the handwritten word to ornate script. Although I could not read or understand the lettering, I adored the aesthetic; broad brushstrokes or delicate swirls that seemed to be dancing in perfect unison.
A modern take on calligraphy awaited me around the corner on Bank St, where French-Tunisian street artist El Seed was commissioned to bring his trademark 'calligraffiti' street art to Sharjah in 2015. It took him two weeks on a cherry-picker to embellish the façade of an abandoned building with a snake-like design that is actually a quote from 19th-century Iraqi-born poet and long-time Sharjah resident Ahmed Bu Sneeda: 'I speak to you, but you do not reply. I visit, but you do not visit me.'

Sharjah Art Museum: a celebration of Arab art
The highlight of my arty adventure, the Sharjah Art Museum, was next on my list. Founded in 1987, this is one of the leading art institutions in the Gulf. Open until 2023, its core exhibit – called A Century in Flux – presents rarely seen works created across the Arab world between 1885 and 1985.
Growing up in Europe, I'd come across very little Arab art and was unaware of such key movements as Baghdad's Al Ruwaad (The Pioneers), Iraq's first modern art group formed in the 1930s, or the Cairo-based Art and Liberty collective that used surrealism to convey political messages around the same time. Nor had I ever heard of such seminal artists as Ibrahim El-Salahi, Saloua Raouda Choucair or Kadhim Hayder in my many years of museum hopping. This exhibit was definitely going to be an eye-opener!
What I found was an impressive range of hugely diverse, often visually striking, emotional or politically charged canvasses, sculptures and mixed media works. Some 120 or so of them – visions from Morocco, Lebanon and Sudan to Egypt, Iraq and Palestine – vied for my attention in nine galleries. Many of the artists featured here studied in Europe or the US and I recognized influences of surrealism, impressionism, expressionism, social realism and other styles, often woven together with Arab artistic elements such as calligraphy.
The work I found most striking was created in the 1960s, a period marked by political upheaval, struggle and violence following independence from colonial powers. In Gallery 1, my eye was instantly drawn to an emotionally charged painting by Iraqi artist Dia Azzawi. Called A Wolf Howls: Memories of a Poet it was inspired by a poem about a mother's loss of her son during the 1963 Iraqi military coup. Several other works reference the same event, including Kadhim Hayder's moving Fatigued Ten Horses Converse with Nothing. In a solitary spot on a dividing wall set within the arched walkway linking the galleries, it's an abstraction of white horses, huddled together under a blood-red moon. Pondering the image, I realised that the message of grief in these works, although tied to specific events, was also timeless and universal.
Rain Room: art meets technology
This was heady stuff! I checked the clock: a couple of hours had just flown by. In fact, now I had to hustle to make my 6pm time slot at the final stop on my Sharjah art immersion: the Rain Room, another project sponsored by SAF. Friends in LA, where this immersive art installation pulled in record crowds in 2016, had raved about it and I was excited to finally experience it for myself.
I entered a darkened hall bathed in a mysterious glow by a single bright spotlight installed at the far end of the space. The light illuminated a room-sized curtain of water perpetually cascading from the ceiling. How was I going to stay dry while walking through this downpour? But lo and behold, when I inched forward, the water parted as promised – neither miracle nor magic but hard science and technology that create this amazing effect.
Random International, the London-based experimental art collective behind the Rain Room, uses motion sensors installed inside 3D tracking cameras to create the illusion that humans can control rain. The goal is to make us examine life in a world increasingly steered by automatization and mechanization. But, frankly, to me this experience was mostly about fun, not to mention the ultimate Insta-op!
The Rain Room put a truly memorably coda onto an eye-opening day of discovery that far exceeded my expectations. Rain in the desert without getting wet! Sharjah is definitely a place where the impossible becomes true.
Produced by Lonely Planet for Sharjah Commerce and Tourism Development Authority. All editorial views are those of Lonely Planet alone and reflect their policy of editorial independence and impartiality.