Sharjah has a growing collection of welcoming retreats that fuse substance and style, dazzling with class not glitz. The best of them also open up a gateway to authentic local experiences without sacrificing 21st-century comforts. Check out the following properties – several of them recent arrivals on the lodging scene – that are proof that hospitality is taken very seriously in Sharjah.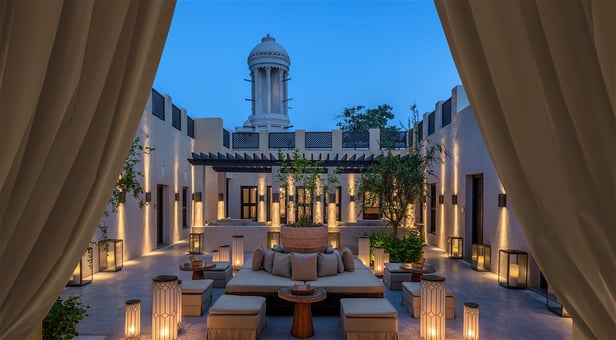 Feeling at home in Al Bait Hotel
The name of this boutique heritage hotel in the Heart of Sharjah translates as 'home', which is just how you'll feel the moment you enter through the carved teak door. Staff graciously beckon you into a lounge where you can relax over a pearly lavender soda and a praline rolled in pop rocks while being checked in. From here you'll be ushered to your plush room – there are 53 in all, spread over four buildings connected by a maze of alleyways. The design is a thoughtful blend of historic and hipster features. Think beamed ceilings, kilim rugs and bowls of dates and walnuts. Then picture a fridge stocked with organic sodas, a huge walk-in pebble-floored shower with Aqua di Parma toiletries and, most impressively, a four-poster bed with a horsehair-filled mattress that'll have you sleeping like an angel. Take time to explore the rambling compound itself, which embraces multiple indoor and outdoor majlis (sitting areas), a trellis-shaded swimming pool and the petite but exquisite spa with Jacuzzi, sauna, steam room and a private hammam. There's even a museum that pays tribute to the complex's original owners and its previous incarnations as Sharjah's first post office and a customs house.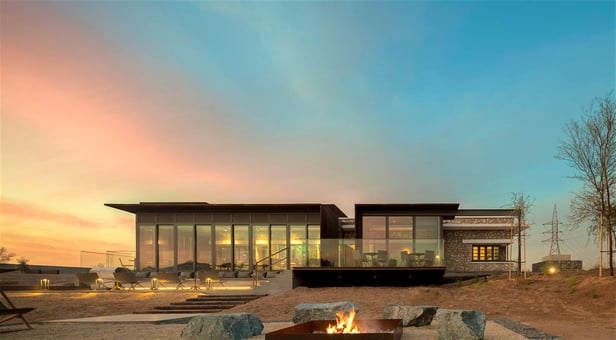 Desert dreaming at Al Faya Lodge & Spa
Driving through the Sharjah desert – a pastiche of red-streaked dunes lidded by a cornflower sky – you suddenly stumble upon a most unexpected sight: a traffic light! What seems like a mirage signals your arrival at Al Faya Lodge, the latest entry in the emirate's growing portfolio of eco-conscious boutique hotels. With its boxy silhouette, floor-to-ceiling windows and stone façades, Al Faya channels a mid-century Modern aesthetic reminiscent of Palm Springs in California. In a feat of architectural alchemy, a grocery store is now the restaurant, while the medical clinic across the street was upcycled into a four-room lodge. Rooms are a tad snug but elegant with wood-panelled walls, marble baths and all the mod-cons you'd expect from a five-star property. Nice touches are the location-inspired features: above-bed skylights for stargazing, and deep bathtubs with desert views. Don't miss a session in the so-called 'hands-free' spa (ie no massages) adjacent to the large saltwater pool. Here you can watch the sunset from a Himalayan Salt inhalation room, get pummelled by massage showers, or relax in the Herbal Room, a moderately heated biosauna infused with scents of chamomile, cinnamon and cloves.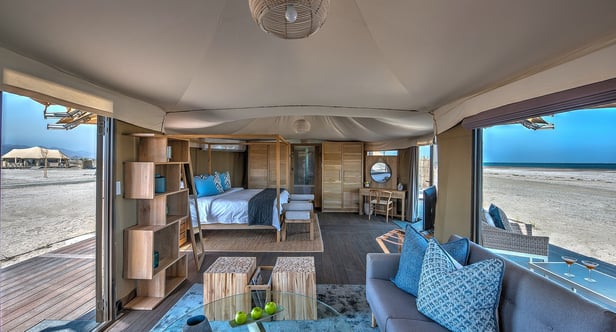 Connecting with nature at Mysk Kingfisher Retreat
If you like to be in the thick of things, don't come to Mysk Kingfisher Retreat in Kalba, an east coast enclave of Sharjah near the Omani border. This eco-retreat consists of 20 luxury tents sitting pretty on a pancake-flat desert island cradled by the Al Qurm Nature Reserve that protects mangroves, turtles, gazelles and rare birds like the namesake kingfisher. This is a place to slow down, unplug and re-energize.
Hushed serenity embraces you the moment you step into the reception lodge where you're welcomed with dates and a cold drink while waiting for an abra (traditional wooden boat) to whisk you to this offshore oasis that kicks the glamping concept up a couple of notches. Blending in nicely with their surroundings, units are spaced far enough apart to allow for maximum seclusion. Unwind in rooms dressed in a soothing sand-and-sea palette and fronted by plunge pools with uninterrupted views of the beach and the turquoise sea. Furniture made from untreated woods, glass-bottled water and organic bath amenities underscore Kingfisher's eco-cred.
Surrender to relaxation or pick from such nature-oriented activities as turtle-watching or early-morning kayaking through the mangroves. If hunger strikes, hop on the fat-tyre bicycles that come with each tent and pedal over to the restaurant for healthy, light and organic meals which often feature local ingredients. Afterwards, unwind by the firepit on the wooden deck and keep an eye out for passing gazelles.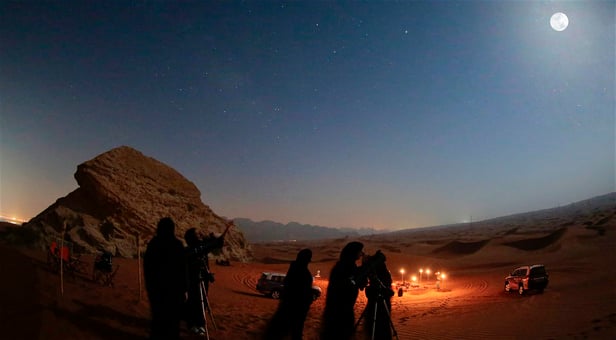 Starry nights at Mleiha Desert Camp
Falling asleep under a canopy of moon and stars in the silent desert is a sublime way to connect with the magic of Sharjah. A prime spot to set up camp is the red-tinged sands of Mleiha, some 65km southeast of the city. This otherworldly landscape has welcomed 'visitors' since Palaeolithic times, with many of these early settlers leaving behind tools, weapons, pottery and other items now displayed at the Mleiha Archaeological Centre. The centre also organizes overnight stays at a desert camp snuggled up against the jagged Faya Mountains. Escapes start with a short, guided trek into the dunes before returning to the torchlit camp for a barbecue dinner, campfire chats and stargazing through a telescope. Drift off to dreamland in your private tent (or below the stars, if you prefer) and anticipate greeting the rising sun with a mug of hot coffee or tea.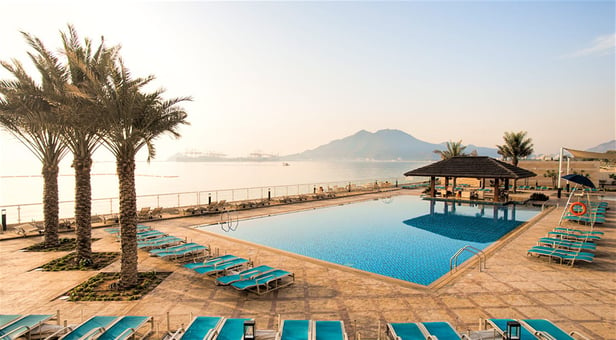 Beachfront bliss at Oceanic Khorfakkan Resort & Spa
Though not a new kid on the block, this landmark hotel with its rooftop rotunda still cuts a fine figure in Khorfakkan, a mountain-backed Sharjah enclave on the Gulf of Oman. A complete refurb has spruced up rooms and public areas, added a slew of new restaurants and birthed three new beachfront villas. Capping the town's palm-lined seaside promenade, the towering property hugs a private sandy beach and is hugely popular with families, not least for its giant pool and water sports menu.
Sea-facing rooms give you a great vantage point from which to see the container ships steering into port. Those needing more elbow room should book into a villa that comes with terraces and private beach access.
Produced by Lonely Planet for Sharjah Commerce and Tourism Development Authority. All editorial views are those of Lonely Planet alone and reflect their policy of editorial independence and impartiality.