Sometimes the best place to be is just where you are – discover the delights of a Staycation in Sharjah. Here are 5 spots to enjoy in and around the family friendly emirate of Sharjah.
Khorfakkan: Do you need to answer the call of the ocean? Then, Khorfakkan, Sharjah is the place to be. Clean, quiet palm fringed beaches with all sorts of water sports and activities on offer, Khorfakkan is a must-visit. Families will enjoy the safe, clear seas for swimming, diving and snorkeling, the marine life here has been compared to the best in the world while the beach is perfect for building sandcastles, walking…or just relaxing. The magnificent mountain background makes for stunning photos and great hiking. Oceanic Khorfakkan Resort & Spa, with great amenities and its own beach, is the perfect place to rest after a day of activities.
Kalba: Kayaking through the oldest mangrove forest of the region, rare birds, scenic beaches, historic forts and the largest eco-tourism project in the region are only some of Kalba's many offerings. The beautiful heritage home, Bait Sheikh Saeed Bin Hamad Al Qasimi in Kalba is full of intriguing old Arabian artefacts while those after more active pursuits can kayak, snorkel or paddleboard around this captivating coastline. An unusual and exciting activity which all the family will enjoy is a trip to Al Hefaiyah Mountain Conservation Centre where a variety of species can be viewed in their native habitat.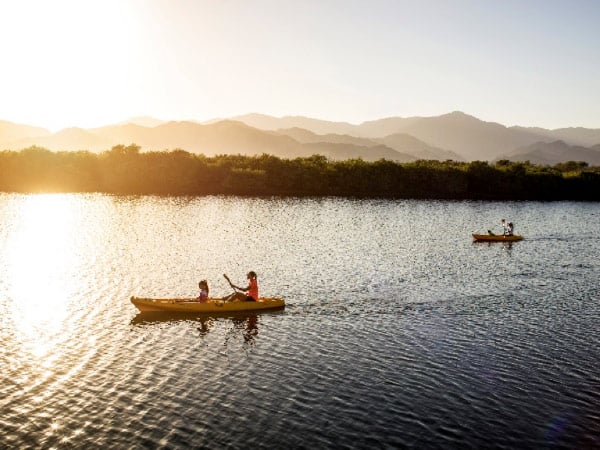 Al Montazah Amusement & Water Park: Lots of family fun can be had at this centrally located leisure park in Sharjah. There are thrilling water rides, shows and sports activities for every age group as well as a souk, cafes and restaurants. The newest extension, the Pearls Kingdom, inspired by the myth of 'Princess Pearls', an aquatic park with 35 attractions, a wave pool, a slide tower with new slides and a kids' area that can hold over 100 children is sure to be a huge draw for all the family. With so much to see and do, one day at the park might not be enough!
Sharjah Nature: The emirate is committed to preserving its wildlife and green belts with a record number of conservation sites and areas where visitors can get up close to nature. The Sharjah Aquarium gives a glimpse into the marine life of the seas around the UAE in a beautifully designed building that winds through the aquarium, clownfish, reef sharks and rays can all be seen here. Another venue that is a must-see for all the family is Arabia's Wildlife Centre, with a reptile house, large primates section, a nocturnal house and aviary, most of the wildlife of Arabia and some creatures on the protected lists are represented here in enclosures designed to look like natural habitat.
Sharjah Leisure: Al Noor Island in Sharjah offers a day of multi-sensory joys. A beautiful Butterfly House, playground for hours of fun for little ones, a Literature Pavilion with soothing music and art installations to inspire, all surrounded by water, this island truly delivers you to a new cultural landscape. Spend quality time at nearby Al Majaz Waterfront where a huge variety of outdoor activities from jogging on the eco-friendly track, playing mini-golf, splashing in the mini water park to riding a 'Byky' along the corniche can be enjoyed. Afterwards, there are several favourite restaurants to choose from for dining options.