Escaping the bright city lights photographer Ali Amar (@r1se) is here to take you on an magical night of camping under the star-filled skies of Mleiha. Get a taste (quite literaly) of his enthralling evening of food, firewood and star-gazing. Did we mention the sunrises are pretty incredible too?
Let's begin with some context on the backdrop to my recent overnight experience. The widespread archaeological evidence throughout the Mleiha area dates back as far as 130,000 years ago. This would place the habitation of the area firmly within the time when it is thought anatomically modern human communities first left Africa and started to expand globally.
With this in mind I was really excited when 7pm came around and my overnight camping adventure began at the Mleiha Archeological Center. The centre is built around one of the circular, mid-Bronze Age (known as Umm an-Nar) tombs. Constructed in about 2,300BC, the burial site was used for about 200 years. Measuring 13.9 metres in diameter, the tomb is the second largest in the UAE from the Umm an-Nar period.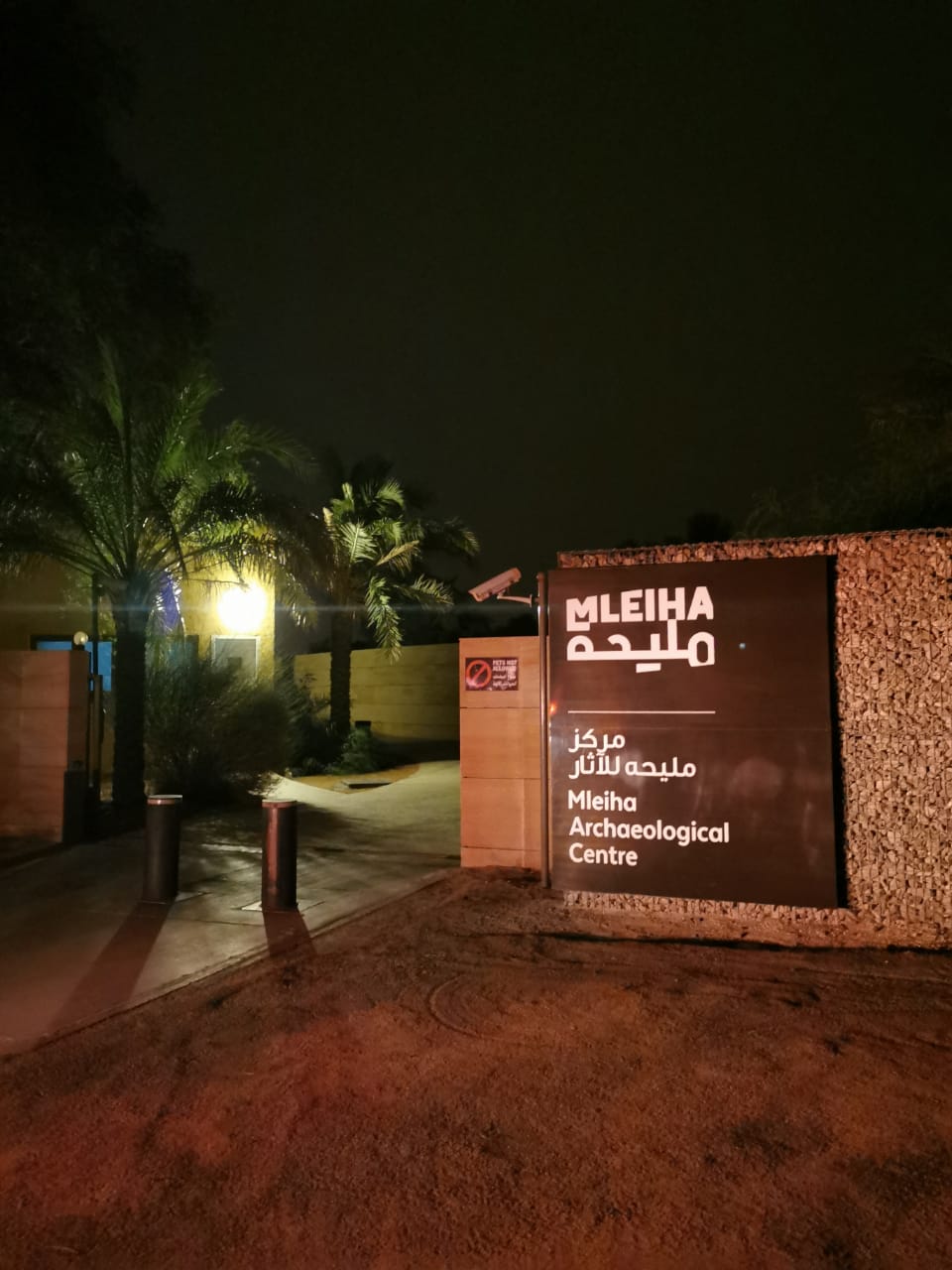 The center itself was mind-blowing in terms of architecture and history. After receiving our warm welcome at the reception and being informed on the interesting facts about the place, I took a ride to my campsite which was an enclosed site within the wider desert and made for both a secure and intimate experience. The area was nicely lit and everything was all set for us which was a huge bonus. The smell of freshly cooked dinner buffet started to make my tummy growl, so I set all my belongings in the tent and headed straight for the food. We had some yummy BBQ chicken which my favorite along with some choices of rice. Needless to say, the food was fantastic, freshly cooked and very flavorful.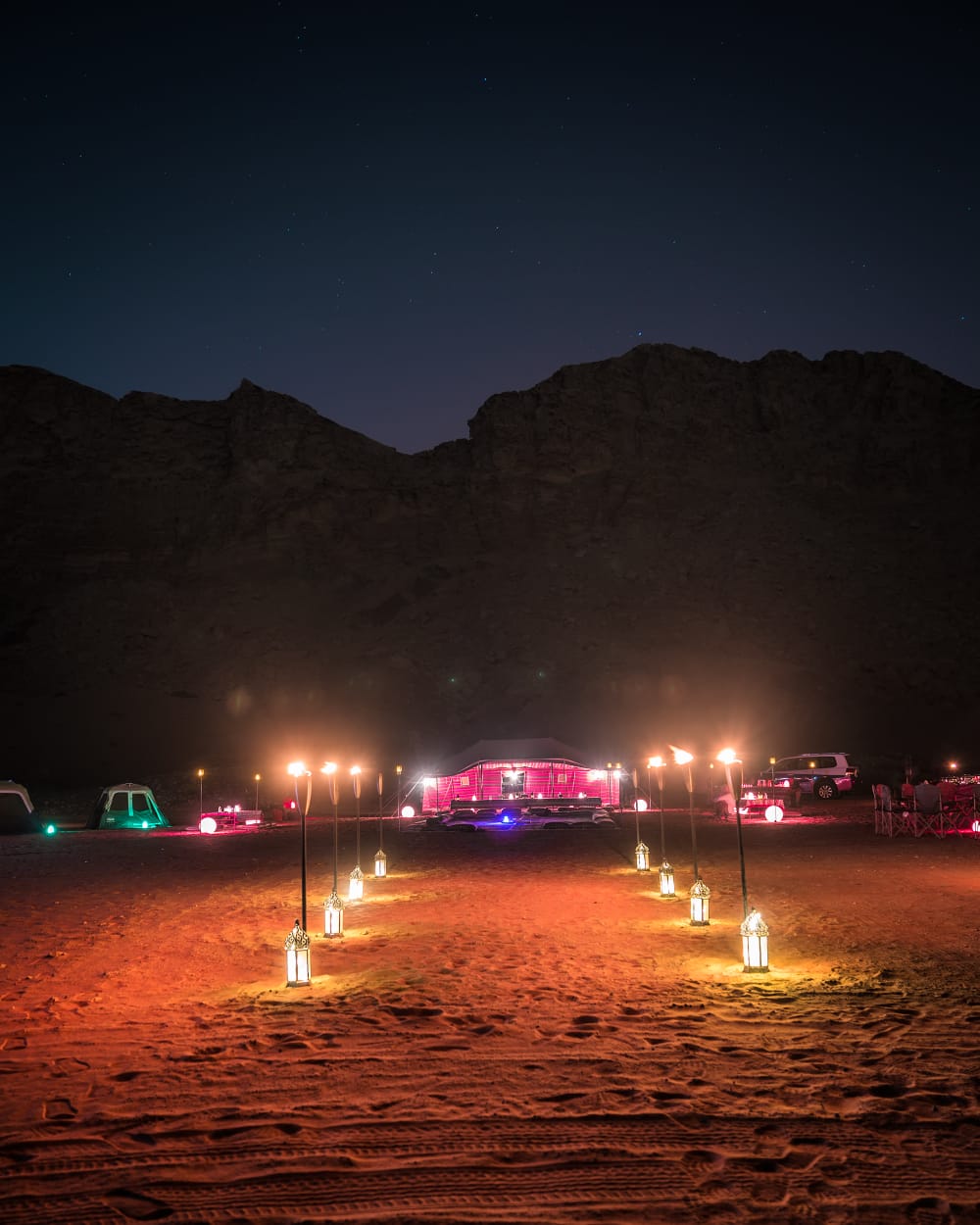 After filling up and relaxing, I was introduced to Abdullah who happened to be one of the most interesting people I have ever met, full of adventurous stories, educational information and humor. He explained to us how to determine direction just by looking at the stars, to distinguish North from South. He also taught us how to determine light years of the stars based on the brightness of it. Aside from the factual stuff, he told us some interesting stories about his trekking adventures and all the mini lakes he found in the mountains.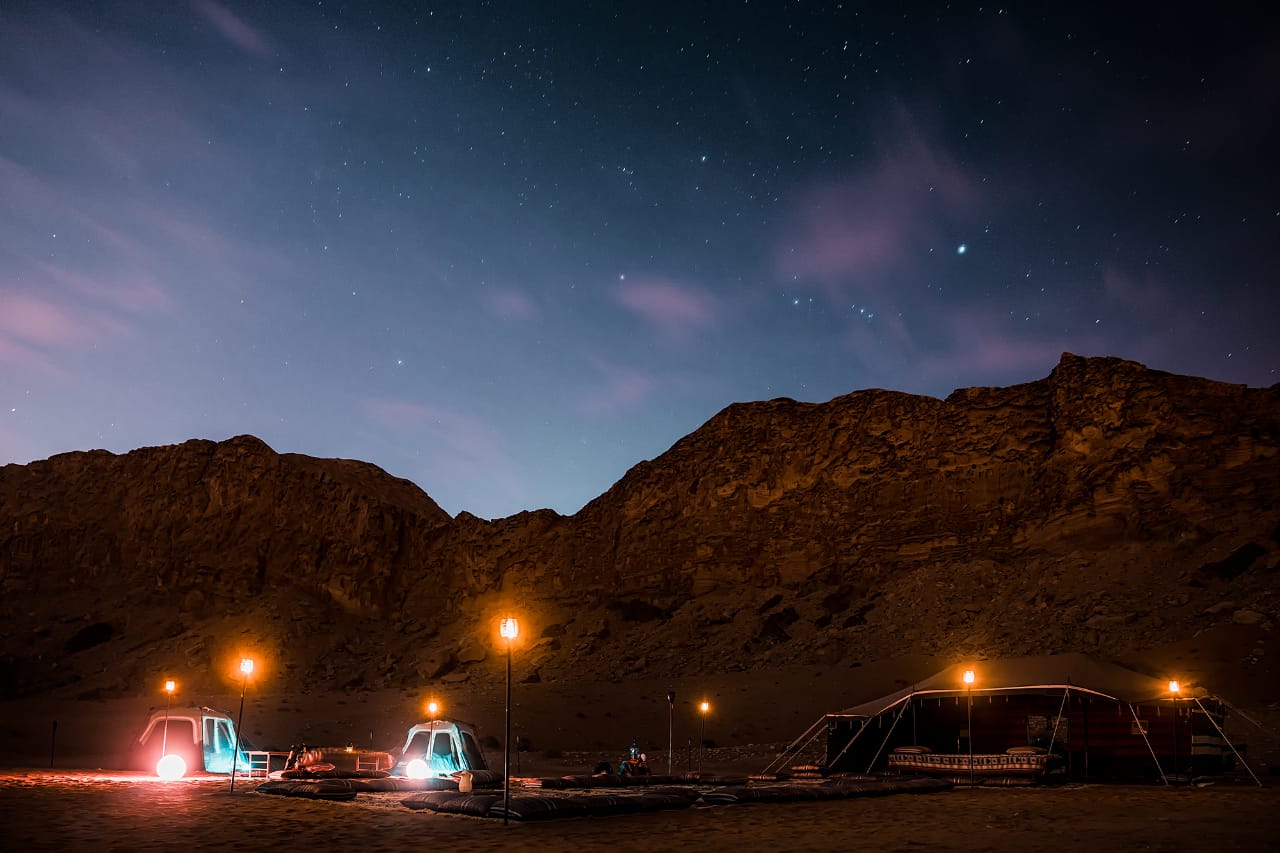 By 11pm it was time for some stargazing with a telescope, it was my first time seeing the moon and planets with a telescope and I was awestruck to the point I started looking for telescopes to buy when I got home. The moon with all the craters and details was crystal clear, it was an outstanding experience.
Desert, stars and great company definitely calls for some bonfire stories which is exactly what we did next. We talked about everything from the history of Mleiha all the way to planets, stars and everything in-between. Its moments like these that really make you feel alive, you forget about all your problems and stress and just feel present in the moment.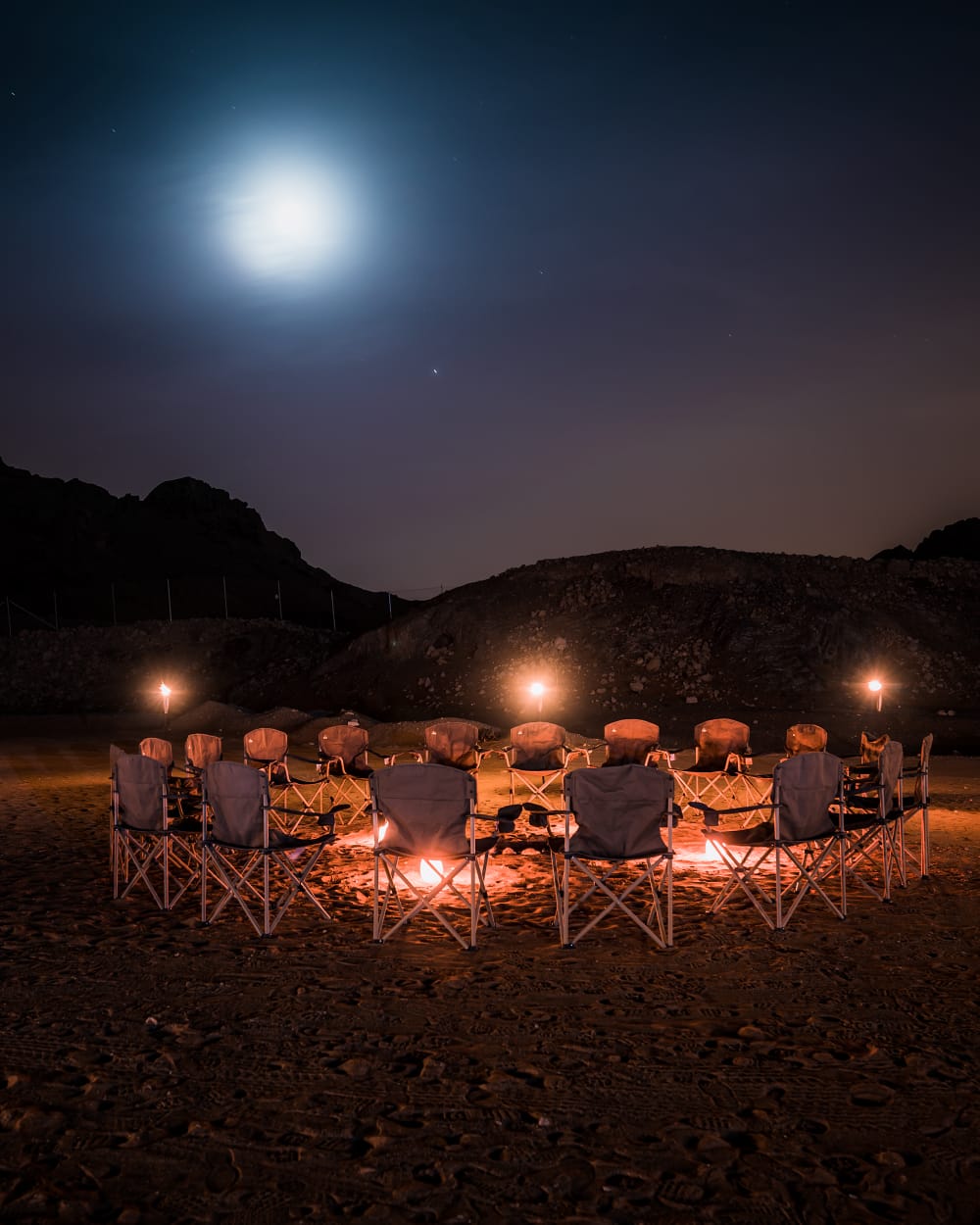 Just as expected we ended up staying up all night under the stars sharing stories until it was time to go on a little sunrise tour. We headed to a high vantage point over the mountain waiting for the sun to rise. It was a breathtaking view as the night sky slowly started to fade away into the light of day. We took some photos there and went back to the center for some breakfast. Sadly, the amazing experience was coming to an end, however the memories created will last forever. The staff, experience and everything was just perfect, it was nothing short of flawless. One unique aspect about this experience was the seamless combination of knowledge along with the having fun.
It was truly a phenomenal overnight camping experience that I will definitely repeat soon and I encourage everyone to visit this amazing place. It includes dinner and breakfast, trekking and stargazing along with lounge and an overnight camping in a tent. All that for just 350 AED per person, which in my opinion is an amazing price. You can even add other activities like Desert cycling, dune buggy adventure and horseback riding.

Ali Amar
A passion for travel and filmmaking for over 5 years. To me its more than just a hobby; it's a lifestyle.
Check out my account