Join 7-year UAE resident, and first time Sharjah visitor Oksy Kelvisch (@oksyvlogs) as she discovers with fresh and eager eyes just what makes Sharjah a cultural capital of the Arab World. From luscious landscaped gardens and spectacular musical fountain shows to one of a kind museums, Oksy has everything you need to get your 2020 travel plans started.
I love discovering Dubai and vlog about this city, but this time I decided to do something different. I've been living in the UAE for 7 years and I've never had a chance to explore other Emirates. So I visited UAE's third most populous city Sharjah and its key locations. It took me only 30 min by car to get there from Dubai.
Scroll down for my list of the top places to visit in Sharjah in order to get a real taste of what this city has to offer and make sure to watch my Vlog, which gives you a visual tour through all the exciting sights.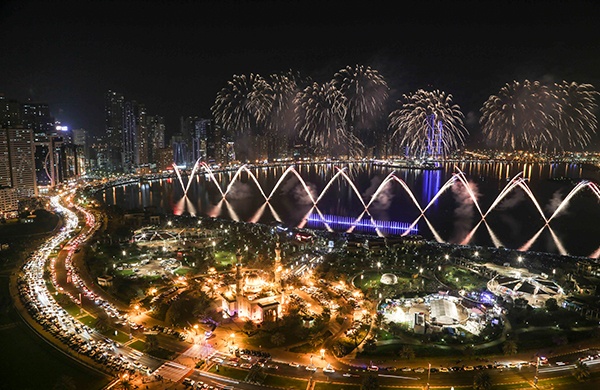 Al Majaz Waterfront and Khalid Lagoon
This is a beautiful green destination. You can go there just for a walk, have a picnic in the park or play mini-golf. In the meantime, your kids can spend time at the splash playground area.
Try a family cycle with your kids and enjoy the day outdoors. In between/after, enjoy lunch or dinner at one of the waterfront restaurants.
From 6:30pm to 11pm you are able to enjoy the spectacular fountain shows of the iconic Sharjah Musical Fountain. If you are into photography, take a boat trip onto Khalid Lagoon after sunset when the city skyline is lit up for that perfect shot from the water.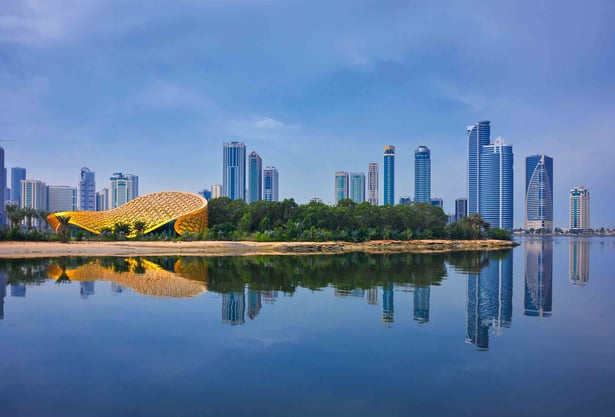 Al Noor Island
This artificial island was a highlight of my trip. I felt like I was in a tropical paradise with its beautiful and peaceful atmosphere. Listen to the sounds of nature while you are walking through the luscious landscaped gardens.
You can't access the island by car, only through the pedestrian bridge.
The island is entirely family-friendly and everyone will find something to do. A trampoline and climbing area ensures children are happy and occupied. The island has a great butterfly house - home to more than 500 butterflies. If you wish to find a spot to read a book, the literature pavilion would be a perfect spot.
In case you get hungry, Noor cafe has a healthy selection of snacks and beverages.
Sharjah has been awarded the Cultural Capital of the Arab World by UNESCO and it's home to some of the best museums and galleries in the country.
After Al Noor Island, I headed to the Heritage Area. This area consists of 4-5 museums located in the heart of Sharjah. I went there quite late, so I had time to visit only two of them.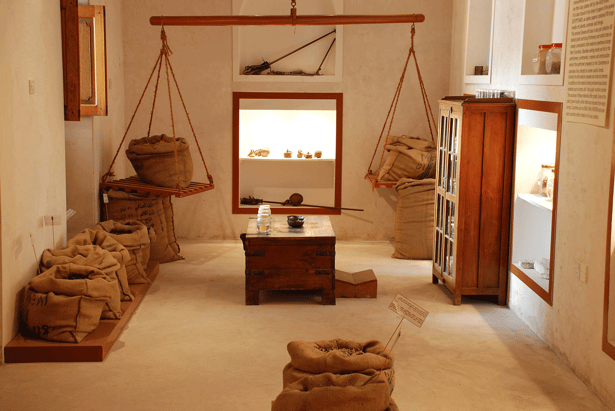 Sharjah Heritage Museum
Here you can learn more about the rich culture of UAE locals and Sharjah residents in general over the past decades.
The museum has a number of galleries in different rooms covering aspects such as livelihood, leisure, celebrations, traditions.
The museum is very informative and you can feel how the weather, location and religion influenced the people and their way of life.
Tickets are only AED10 to visit one museum or you can pay AED20 and get access to all of them.
Sharjah Calligraphy Museum
Sharjah Calligraphy Museum is the only museum in the Arab world devoted entirely to calligraphy.
This is a 'Don't Miss', if you appreciate calligraphy as an expression and art. The museum is small but contains a lot of information. It has a couple of galleries showing examples of Islamic calligraphy in different scripts.
After my tour around the museum, I had a complimentary Arabic coffee with dates.
So there we are, living next to an Emirate filled with history to experience and to become part of. Hopefully I've given you some travel inspiration to help you plan what to do in Sharjah and to make sure you get the most from your visit.